Want a Bike for Daily Commute and Adventure Rides? Hero Xpulse 200 4V is the Best Option!
3 min read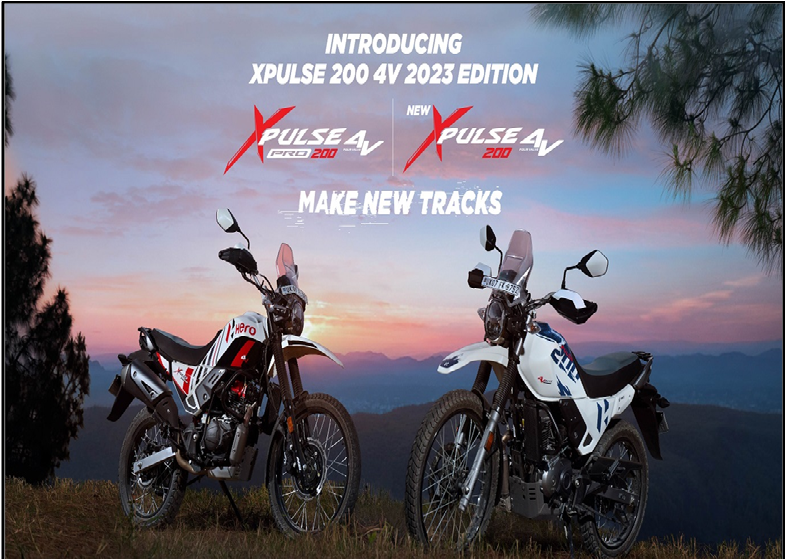 If you're in the market for a bike that effortlessly blends daily commuting convenience with the thrill of weekend adventures, your search ends here. Introducing the Hero Xpulse 200 4V – a remarkable motorcycle that embodies rugged versatility and exhilarating performance. Whether navigating bustling city streets or conquering off-road trails, this bike is engineered to deliver a seamless experience.
Powered by a robust 200cc, single-cylinder, 4-valve engine, the Hero Xpulse 200 4V the embodiment of power and efficiency. Add to this a set of spoked wheels, a high ground clearance, and a long-travel suspension, and you have a two-wheeled marvel capable of tackling both asphalt and dirt with equal aplomb.
Let's look at the key features of this engineering marvel.
Salient Features of the Xpulse 200 4V
Considered by a majority of customers as the top choice when it comes to the best 200cc bikes in India, the Xpulse scores high on several fronts. Here are the best parts of the Xpulse that set it apart from the other models in the segment:
Dynamic Engine – Boasting a 199.6cc, single-cylinder, 4-valve engine, the Xpulse 200 4V churns out a max torque of 17.35 Nm and max power of 18.9 BHP, ensuring a thrilling ride in various terrains.
Smooth Transmission – Its 5-speed constant mesh transmission guarantees seamless gear shifts, translating into optimum control and performance.
Unmatched Suspension – A long-travel suspension system handles uneven roads and rough tracks with ease, promising a smooth journey even on challenging surfaces.
Ready for Anything – Spoked wheels, high ground clearance, and off-road tires grant this bike the adaptability to face any road – be it gravel, dirt, or tarmac.
Advanced Illumination – The Hero Xpulse 200 4V features a Class D LED with DRL headlights, providing superior visibility and enhancing safety, especially during night rides.
Tech-Savvy – With a digital instrument cluster, you have critical information at a glance, helping you stay informed while on the move.
Multi-terrain ABS: For enhanced safety, a 3-mode ABS is part of the Xpulse 200 4V, with the modes being Road, Off-road and Rally, providing superior braking on all terrains.
The Merits of the Xpulse 200 4V
Here are just a few reasons why the Hero Xpulse 200 4V should be your ride of choice:
Versatility Redefined: Seamlessly transitioning from urban commutes to thrilling off-road escapades – the Xpulse 200 4V is your steadfast companion in both scenarios.
Ride Comfort: Experience comfort like never before with its ergonomic riding position, seat height of 825 mm and superior suspension engineered to tackle all road imperfections effortlessly.
Unbeatable Value: Priced competitively across all cities, the Hero Xpulse 200 4V ex showroom price offers exceptional value, combining performance and affordability in a single package.
Trusted Support: Benefit from Hero MotoCorp's expansive network of dealerships and service centres across India, ensuring your Xpulse 200 4V remains in its prime condition.
Verdict
The Hero Xpulse 200 4V stands as an embodiment of an exceptional all-rounder among the latest bikes in India – a motorcycle equally adept at daily commuting and adrenaline-pumping adventures. Backed by its remarkable features, affordability, and Hero's renowned after-sales service, this bike is undoubtedly the ultimate choice for those seeking a versatile ride.
The Hero Xpulse 200 4V is more than just a bike – it's a lifestyle. Seamlessly blending practicality with adventure, it promises an exhilarating journey every time you hit the road. Elevate your riding experience with the Hero Xpulse 200 4V – the ride you've been waiting for.